---
Posted: 14 Feb 2013 07:20 PM PST
All day I been on
Pinterest
showing off kittehs wif heart patterns in der furs. It iz kinda cool and best part iz I finded a coupla pals like
Romeo the Cat
and
Your Daily Cute's Moo
dat hab hearts on dem too. Well I had enuff of dis cuteness and I sez I hab a heart too! Do u seed it?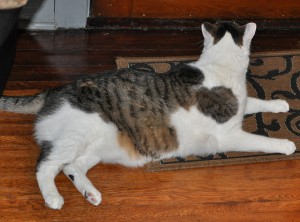 Ok so ma heart iz a lil lopsided and u haz to squint a lil to see it but I haz one!
So Happy Valentine's Day to all ma pals. Iffen u missed ma pins today here are a few of our favorite ones.
Valentine's Day Hearts
appeared first on
Boris Kitty - 4 Paws for a Cause
.