---
Posted: 22 Jan 2013 06:38 PM PST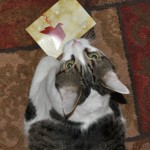 We gotted a late Xmas card from our pals ovah at
Citizen Paine
(a PR company I fink we werked wif at some point during da year). But it wuzn't just a card it had a neat origami bird inside da card. And dat bird wuz a folded up $10 bill.
Da note inside the card asked dat we paw it forward. My first thought wuz I will just gib it to One By One (which of course we were intending to do next time we went ovah to an adoption day), but da universe had anutter plan fur us. We had da money in our wallet carryin all ovah da place (surprised H2 did not go and spend it by accident).
Den we gotted an email from The Buddy Rescue about
Ellie Mae dat sweet looking hound doggy wot needed to hab surgery
on both her ears. So we qwikly clicked ovah to der chip in and made sure dey got dat moneys. She still needs halp wif her vet bills (see my post about herz and please donate iffen you can). The folks at da Buddy Rescue r really nice people and do so much good fur da puppies wot need savin. I knows dey will be beary appreciative of any moneys dey gets. (dunt worry ma pals at One By One will still gets a donashuns frum us too….sides SCIFIpawty iz all fur dem)
The post
Paw It Forward Wot a Pawsum Xmas Surprise
appeared first on
Boris Kitty - 4 Paws for a Cause
.
Posted: 20 Jan 2013 05:55 PM PST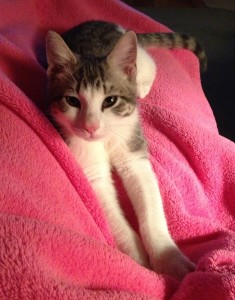 OMC remember dat sweet lil Peanut ma pal rescued afore Christmas? Well
herz gotted a beary lubbin furever home
and her new human haz sended me an update on hers.
Peanut is doing great. A little over 3 months old now and getting big. She loves her sisters and playing and sleeping in the bathroom sink! LOL Our 14 year old has been playing lately, she has brought lots of energy and love to our home.
I am so beary happy dat herz not only gotted a forever home but sounds likes hers gotted a GREAT forever home. Look at des utter pikshurs of her fitting right in and gettin big and being lubbed.
I great BIG fank u goes out to da folks at One By One for taking Peanut in and posting her story on facebook so her new human could find her & adopts her so quickly. Peanuts story wuz a true Christmas miracle.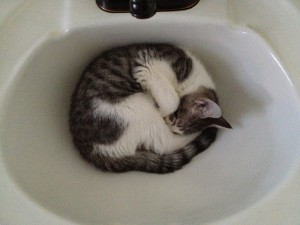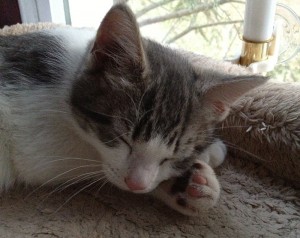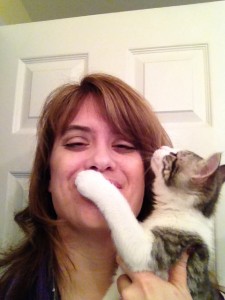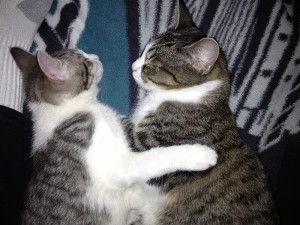 The post
Peanut iz Happy in Her New Home
appeared first on
Boris Kitty - 4 Paws for a Cause
.
Posted: 02 Jan 2013 05:41 PM PST
Remember a few weeks before Catmouse I did tell you about sweet lil Peanut dat ma furrend did rescue out of da alley behind her house? Herz wuz abused & thrown away likes trash, but ma furrend saved herz & took good cares of her until herz wuz old enuff dat we could askin ma pals at One By One Cat rescue to halp her.
Dey agreed to take her in to a foster fambly so herz could get used to people and utter kitties (ma furrend only haz doggies). Da weekend herz wuz goin to foster home wuz da first week H2 wuz doin Xmas photos fur 1×1 at Petsmart and Peanut came to spend da day. LOADS of people looked at her and lubbed her, but herz wus still not reddy fur a forever home (even tho herz wuz at da vets & dey sed herz wuz good and sweet and gibbed her owie shots).
Peanut even asked Santa Claus for a forever & ever home wif someone dat would ub her & not hurt her like dem mean humanz did.
Well da beary next Caturday wuz anutter adoption day & a lady wot seed Peanut on facebook wuz comin to meets her. Da human wuz beary moved by her sad story and her beary cute face.
Well both Peanut & da human fell in lub wif each utter & herz adopted Peanut dat beary day!
HOW PAWSUM IZ DAT? Peanut had a brand new home fur da holidays only affer a few weeks of being rescued from dat alley!
Not all kitties r dis lucky & many stay in da adoptions centers & foster care for a beary long time. Please consider making a new years resolution to halp dem kitties until dey gets adopted. U can make a single donation or even sponsor a kitteh out right.
The post
Peanut Gotted Her Xmouse Wish A New Home!
appeared first on
Boris Kitty - 4 Paws for a Cause
.