---
Posted: 16 Jan 2013 07:49 AM PST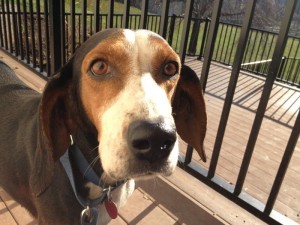 Dis sweet pupper dog wuz rescued by da fine folks at The
Buddy Rescue Foundation
a few months ago from a "shelter" in South Carolina where herz wuz a bout to be put down (dis makes r hearts hurt dat so many anipals wot go into shelters never come out — especially in da south).
Ellie Mae wuz lucky, but herz still needs r halp. Da human wot had her neglected her & now herz needs surgeries to halping stop da pain.
Just look at dem sweet big floppy ears! (Human2 lubs floppy ears — da ears on a doggy r wot makes herz lub dem.) Well Ellie Mae's ears r wot be causing all da pain. Years of neglected ear infections have cause her serious problems and now herz in NJ habbin
ear ablation surgeries in both ears
. Please keeps herz in ur pwayers today and we needs a #pawcircle dat herz not only gets better but gets a forever home affer herz all betterer.
Also da surgery iz gonna cost da rescue lots of green papers. If you can halp dem out I knows we could make dis doggies life a lots better. Da chip in for da shelter for
Ellie Mae's surgery
is here:
http://buddyrescue.chipin.com/ellie-maes-ear-medication-and-surgery
The post
Ellie Mae Needs R Halp
appeared first on
Boris Kitty - 4 Paws for a Cause
.